As we leave from Honolulu to Maui on the 5:15am flight, the morning still shows the beautiful full moon with a hint of orange color from the rising sun upon her face. Mahalo KeAkua i keia la he kou maua iho oli I kanani i keia.
Before we headed on the Hana, we stopped at Iao Needle and the cultural garden a nice place to go for a picnic. (maybe next time)
As we headed on our way to Hana's winding road you can enjoy the beautiful foliage of helekonia and lauae fern and possibly lilikoi fruit better known as passion fruit. We've learned to always give yourself extra time our gps system gave us 40 minutes to our destination... TOTALLY INCORRECT... it took us approximately 2 hours, giving touring drivers, and on coming cars on sometimes a single lane road when it gets to multiple hairpin turns. You'll also find tourist out of their cars WATCH FOR TOURIST taking pictures of waterfalls and streams along the mountain side. When we finally reached Hamoa the beach was simply breath taking. Rev Elias already knew where to stop, you just had to be there to see it.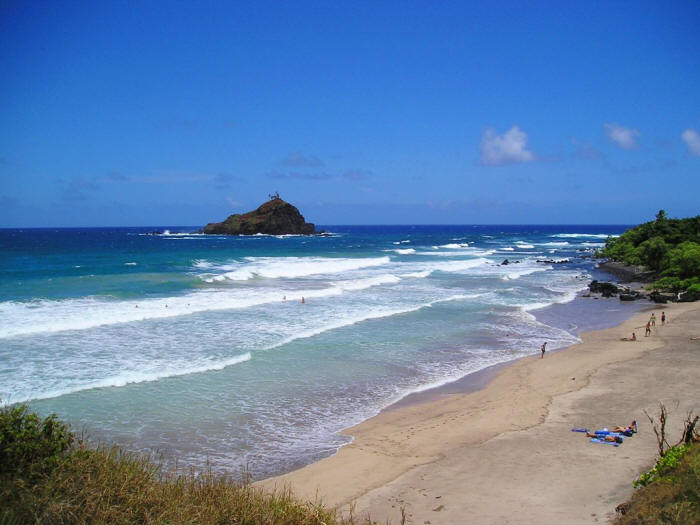 Almost secluded but you just have to be there before the crowd sets in. Get there early... no problem on having your family picnic there. While Kevin (the beautiful bride and Leonard somewhere on the street side looking out for us, but little did you know we arrived at our final destination 30 minutes after the Schwaigers got to the beach. Like the bride, .... of course simply beautiful. The picnic area overlooking the beach, (right in the middle of everything) just a little on the right of the beach is the birth place of an infamous female of royalty. If you know who she is comment it back to us.